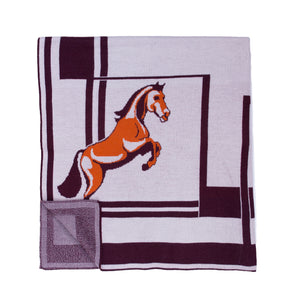 The Stallion Blanket
ABOUT
Blanket in jacquard woven 100% Merino wool. subtle horses delicately woven into the fabric with a geometric intricate woven pattern surrounding the rearing stallions.
DETAILS
100% Made in the UK
100% Luxury Merino Wool
100% Made by happy people
PAY BY KLARNA AVAILABLE
THE STORY BEHIND
Head designer Samantha, uses inspiration from her late mothers paintings to create animals for her designs. This enables her to feel she can take a little part of her Mums creativity with her. 
OIPE3422