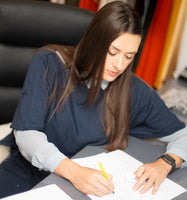 1. THE DIRECTOR: SAMANTHA BROOKE
Hi! I am Samie, Director of Waring Brooke. I came from a background in high and fast fashion. Working  as head knitwear designer in Italy for Alberta Ferretti
and in Northampton for American fashion giant Max studio.
Alberta Ferretti and her fiery Italian personality inspired my creative and passion for the fashion industry. She gave me full reign to be creative with no boundaries for the catwalk. I loved her and her full vivacity  for designing.
Leon Max, the American fashion mogul inspired me in business. He was a business man with a keen eye for creating fashion in an intelligent way. Leon has been such an inspiration, he taught me
to be creative....with boundaries. He taught me to design for industry and customers. Now, I can not put pen to paper without thinking 'who will wear this, where will they wear this, how will they wear this' .
2. WARING BROOKE- THE BEGINNING
Waring Brooke was established in 2017 by Megan Turner and Samantha Brooke and started trading in 2018. We are two friends with a shared love of business and the countryside.

Looking for a manufacturer was a struggle, we couldn't find one that could give us the minimum quantities at a price point that would work for the market. We really didn't want to have to go abroad for manufacturing as we believe in making British and local. Knowing where the clothing is being made and by who.
We came to the conclusion, instead of putting lots of money in stock that possibly would not sell, we put it into a STOLL knitting machine and had an asset. We could then make the product in house and control the quantity and fully be Made in Britain. GREAT IDEA!
3. WHERE WE WENT WRONG
In the space of 6 months we bought a STOLL knitting machine, learnt to use it, programmed a full menswear and womenswear winter collection, knitted, linked, washed and pressed all garments before launching the fashion brand at 'Horse of the year show' , which we had to organise and create a trade stand!

We fast realised we had bitten off more than we could chew and couldn't keep up. Megan had just had a baby and understandably stepped away from the business. While my mental health took a turn for the worst due to work and home pressures, I had to take some time off work and re-evaluate the path for my life and to make Waring Brooke a more manageable business for a 1-man-band.
4. THE BIRTH OF OUR UNIQUE MONOGRAM ACCESSORY
I concentrated on the accessories, as they were more manageable to programme, produce, make-up and finish.  Utilising the machine by creating a pattern from your initials to create your very own geometric pattern.
The accessories were immediately picked up by the press, such as VOGUE, TATLER, GRAZIA, METRO and DAILY MAIL to name a few.
'where you can buy stylish, reuseable face masks- Waring Brooke' GRAZIA NOVEMBER 2020
'Chances are your friend doesn't have a snood personalised with their initials like this one' HORSE AND HOUND, NOVEMBER,2020
'Time to upgrade to a monogrammed Merino wool snood. The Waring Brooke snood is the warmest option, and you can pick 2 initials to have woven into the pattern' -COACH APRIL 2021
FEATURE IN - THE LADY MAGAZINE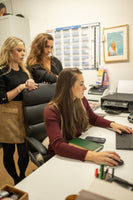 5. THE TEAM GROWS
After learning I had a unique, desirable product, I started to understand how to sell it (as after all, I was a designer, I had no idea how to sell anything!) The business started to make some money.
I could re-invest into the business and hire a PR company to help with the exposure of the brand.
I realised that it was growing too fast for me to do EVERYTHING on my own, so I took the plunge and hired an employee, Frey. This enabled me to spend time developing new products, marketing and creating partnerships.

We started working with charities 'Framework Housing Association' giving blankets, scarves and hand warmers to a local homeless charity. Through the pandemic
homelessness was on the rise. As a local knitwear company we wanted to give a little warmth in the dark days.
6. EXPANDING THE BRAND
With more time to design and programme the knitting machine, the product ranges have grown back into the fashion side, of which I feel more comfortable making! This has enabled us to be be sold in shops- YAY! We have stockists throughout the UK who we love working alongside!
I am so proud to say in 2021 I have been made a finalist in the Great British Entrapanurs awards for the 'Made in the UK Award'.
I started my business in 2018, it's been an emotional rollercoaster with it's ups and downs, but it has driven me in every way. It is my lifeline and gives me purpose in life. I live to create, and I create to live. I cant wait to see were it is in the next 5 years.
GREAT BRITISH ENTREPRENEUR AWARDS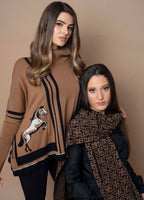 7. SUSTAINABILITY IS KEY
I would like to divulge my heritage as this has a HUGE part of who I am and where the sustainability factor to my business comes into play.
The family farm (where I currently have Waring Brooke headquarters) is a BIO MASS site. We turn wood waste into biomass fuel for power stations. There is a power station on site which generates energy to power the Midlands.

I see this waste from my office door, and it haunts me. This at least is re-used and creates green energy .
This is why I use bio-degradeable material. I create In Britain, what is only needed, to order. I make something so personal that the owner will not throw it away after a couple of wears.
RE-USE / REPAIR / RECYCLE